4D hifu body face lift HIFU wrinkle removal body slimming
Working theory
Ultrasonic focusing reaches the SMAS layer with its specific high-energy focused ultrasound, improves the SMAS suspension, comprehensively solve the facial sagging and relaxation problems. It accurately positions the ultrasonic power on the SMAS 4.5mm under skin, performing the best effect of shaping, pulling and compacting for muscle growth and traction; impacts on the collagen layer 3mm under skin, making the collagen restructured and newborn, solving the aging problems by recovering elasticity, skin whitening, wrinkle removing and pores shrinking.
Cartridges:
1.Transducer DS-1.5mm used to transmit high-energy focused ultrasound to the epidermis tissue, the ultrasound to penetrate the skin to a depth of 1.5mm, is responsible for activating the skin epidermis in thinner tissue.
2. Transducer DS-3.0mm, 4MHz frequency ,used to release ultrasound energy into the dermis layer of 3.0mm,is responsible for activating the skin's dermal layer of collagen, effectively enhance the effect of the consolidation of the outline, but also improve large pores and reduce the appearance of wrinkles.
3.Transducer DS-4.5mm, 4MHZ frequency used to transmit high- energy focused ultrasound to the skin, subcutaneous tissue, the ultrasound to penetrate the skin to a depth of 4.5mm, direct subcutaneous SMAS layer, forming "heat coagulation" regional, targeted to thicker skin, such as cheeks, etc.
4. Transducer DS-6.0mm,8.0mm,10mm,13mm and 16mm are responsible for transmitting 4 MHZ high intensity focused ultrasound subcutaneous fat layer to melt the fat cells. Then the metabolites of fat cells will be excreted by human body's metabolis.It is targeting the body.
Note: DS-6.0mm,8.0mm,10mm,13mm and 16mm transducer is ONLY do for body fat reduction, skin tightening.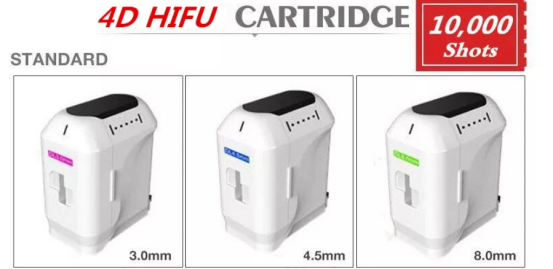 4D HIFU Applications:
1. Face lifting
2. Wrinkle removal
3. Nasolabial folds removal
4. Expression lines removal
5. Forehead wrinkle removal
6. Eyes wrinkle removal
7. Skin tightening ,whitening ,rejuvenation
8. Body shaping, fat removal
4D HIFU advantages:
1.It can save a lot of treatment time and shots in the treatment compares with Classic HIFU. Save shots, save time, save money;
2.Has 20,000 shots, each line has 26 dots;
3. It has three different working heads for different operational areas;
-3.0mm is for the dermis layer;
-4.5mm is for the SMAS layer;
-6.0mm/8mm/10mm13mm/16mm for body fat layer;
4. It's totally non-invasive and safe;
5. The effect will be shown after the operation, while the best effect will be seen after two months. It can be lasted for 2-3 years.
4D HIFU Specifications
| | |
| --- | --- |
| Operation Interface | 15.4" Color Touch Screen |
| Peak Power | 300W |
| HIFU Frequency | 4MHz |
| HIFU Energy | 0.1-2.0j Adjustable |
| HIFU Cartridge Line Length | 5-25mm Adjustable |
| HIFU Line Width | 0-10mm Adjustable |
| HIFU Cartridge | 3.0mm, 4.5mm 8.0mm (Standard) |
| | 1.5mm, 6.0mm, 10.0mm, 13.0mm, 16.0mm (Optional) |
| HIFU Cartridge Lifespan | 5000&10000&20000 Shots |
| Screen Rotation Angle | 0-90°Adjustable |
| Power Supply | 110V/220V; 50/60Hz |